The Surgeon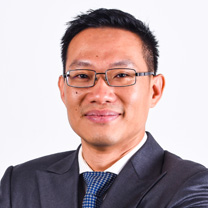 Dr Tan Chyn Hong
Shoulder Knee Elbow Specialist
MBBS (Singapore), MRCS (Edinburgh), MMED (Ortho), FRCS (Edinburgh)
Dr Tan Chyn Hong, an elbow, knee and shoulder specialist surgeon, was the head of division of Sports Medicine in National University Hospital in Singapore before moving on to private practice. He led a team of orthopaedic surgeons, sports physician and sports therapist, to provide comprehensive medical care to athletes. His patients included national athletes (basketball, netball, canoeists, judo, taekwondo etc) and professional footballers.
Dr Tan has a special interest in the treatment of Shoulder, Knee and Elbow problems.
He was an early adopter of the technique of implantless arthroscopic rotator cuff shoulder surgery in Singapore. He was the initial surgeon in Singapore to perform the keyhole rotator cuff repair without using any metal or plastic implants.
In 2007, he was part of the workgroup appointed by Ministry of Health to develop the national clinical practice guidelines in the treatment of Osteoarthritis of the Knee. In the same year, he was awarded the inaugural College of Surgeons Gold medal from the Academy of Medicine Singapore for being the most outstanding candidate in the fellowship examination of the Royal College of Surgeons (Orthopaedic Surgery) Edinburgh.
He completed a fellowship in Australia where he received further sub-specialty training in the Shoulder, Knee and Elbow. His work in Australia involved the treatment of professional athletes with sports injuries as well as patients with degenerative conditions like rotator cuff tears and arthritis of the shoulder and knee.
Dr Tan Chyn Hong's love for sports started when he joined the Raffles Institution Judo Club in 1987. He was a 1991 SEA games national representative for Judo and he continues his involvement with sports by treating athletes with injuries and getting athletes back on their feet. He took on further training in Australia and underwent subspecialty training dealing with shoulder, knee and elbow injuries where he worked with professional athletes, as well as ordinary people with an extraordinary love for their sport.
Dr Tan has a lot experience dealing with knee problems including meniscus surgery, ligament reconstruction (anterior cruciate ligament, posterior cruciate ligament, collateral ligament) and cartilage regeneration. Most of these surgeries can be done arthroscopically (keyhole approach) with minimal pain and quicker recovery.
The meniscus is a shock absorbing structure in the knee joint. It can be torn during a twisting injury to the knee. The treatment can be to clean up and smoothen the torn edges or to repair the meniscus using special implants. It is always preferential to repair and preserve the meniscus if possible.
Ligament reconstruction of the knee is a very common procedure especially the anterior cruciate ligament. The ligaments help to stabilise the knee and when there is a ligament tear, the knee tends to become unstable and buckle under the patient's weight. Reconstruction usually involves using the patient's own tendon to replace the torn ligaments.
Cartilage is a white lining of cells over the ends of the bone forming the knee joint. Damaged cartilage if left untreated will lead to arthritis resulting in knee pain and stiffness. Cartilage regeneration surgery involves using specialized techniques. Click to read more about these specialised cartilage regeneration techniques.
Publications
MOH ministry of health clinical practice guidelines on treatment of Osteoarthrities of the knees. Sept 2007
Traumatic rupture of the deltoid muscle during a pull-up: a case report. - Han F, Tan HM, Tan CH, Kumar VP. J Shoulder Elbow Surg. 2012 Sep;21(9):e8-10. doi: 10.1016/j.jse.2012.05.026. Epub 2012 Jun 27.
The medial transepicondylar approach to the elbow: a little-known technique. - Ming BT, Hong TC, Kumar VP. J Trauma Acute Care Surg. 2012 Apr;72(4):1086-8. doi: 10.1097/TA.0b013e3182479728.
The posterior neuromuscular compartment of the deltoid.- Hong TC, Kumar VP, Nather A. Plast Reconstr Surg. 2005 May;115(6):1660-4.
View Blog