The Surgeon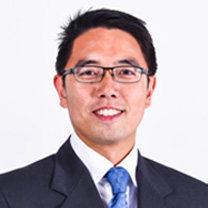 Dr David Su
Foot And Ankle Specialist
MBBS (Singapore), MRCS (Edinburgh), MMED (Ortho), FRCS (Edinburgh)
Dr David Su Hsien Ching was a Consultant Orthopaedic Surgeon and the Director of the Foot and Ankle Service at the Department of Orthopaedic Surgery, Singapore General Hospital, prior to co-founding The Orthopaedic Centre in 2013.
He graduated from the National University of Singapore, and having further obtained post-graduate medical qualifications with the same institution, as well as achieving the Fellowship of Royal College of Surgeons, Edinburgh, he served in the public service for 15 years.
He was awarded a scholarship to undergo subspecialty fellowship training in Foot and Ankle Surgery in Melbourne, Australia at The Park Clinic under Dr Mark Blackney. There he had the privilege to treat a myriad of patients, including elite & Olympic athletes, with foot and ankle pain conditions ranging from trauma and sports injuries, to lower limb deformities and degenerative conditions.
He has also worked with Foot and Ankle surgeons in countries including Switzerland, Germany and USA, gaining a global perspective in treating patients. He has been invited to lecture at multiple local, regional and international orthopaedic conferences and has been a lecturer at AO (Arbeitsgemeinschaft für Osteosynthesefragen) courses dealing with fractures and orthopaedic trauma. He has been actively teaching and mentoring doctors in orthopaedic advanced specialty training, and training international fellows in Foot and Ankle surgery.
Appointed as Adjunct Assistant Professor, he taught postgraduate students in the Duke-NUS Medical School and tutored undergraduates in the Yong Loo Lin School of Medicine, National University of Singapore. He continues to serve as a visiting consultant in Singapore General Hospital. He served as Honorary Secretary of the Singapore Orthopaedic Association in the past.
Apart from general orthopaedic surgery, his special interests are:
He pioneered surgical techniques for brace–free rehabilitation after ankle ligament reconstructive surgery, in Singapore.
Having always had a personal interest in sports, including having participated in multiple marathons and Ironman triathlons, he understands the aspirations, needs and expectations of athletes. He combined this personal interest with philanthropic work in being self-funded and raising money for the Handicaps Welfare Association at the Ironman Western Australia Triathlon in 2006. He is married with 3 children and continues to be active in church work.
Dr David Su Hsien Ching considers it an honour, and a deeply humbling experience, to encounter patients in their life's journey, and to help bring them through to recovery.
Publications
Su DH, Chan CW, Seow KH, Lo NN, Yeo SJ, Tay BK, Tan SK.  Results of revision total knee arthroplasty. Singapore Med J. 2000 Jan;41(1):6-8.
Lee GH, Su DH, Su DH, Fong AC, Chow YH.  Screening for hypercholesterolaemia in patients with other risk factors for coronary heart disease. Singapore Med J. 1999 Jun; 40(6):397-401.
Parkos CA, Colgan SP, Bacarra AE, Nusrat A, Delp-Archer C, Carlson S, Su DH, Madara JL. Intestinal epithelia (T84) possess basolateral ligands for CD11b/CD18-mediated neutrophil adherence. Am J Physiol. 1995 Feb;268(2 Pt 1):C472-9.
Seo-Kiat Goh, Miny Samuel, David Hsien Ching Su, Edwin Shih-Yen Chan, Seng-Jin Yeo  Meta-analysis Comparing Total Hip Arthroplasty With Hemiarthroplasty in the Treatment of Displaced Neck of Femur Fracture   JArthroplasty . 2008 Aug 13
View Blog