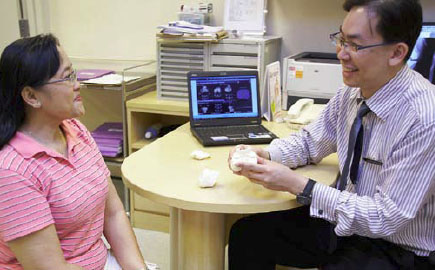 February 25, 2014
These days, she walks with a spring in her step. But it wasn't always so – for two decades, Mdm Manisah Mohd Tahir lived with debilitating knee problems which kept her in constant pain and limited her movements.
"I first felt the pain in my knees some time in the early 1990s. There was often swelling, although I could still walk. However, after a few years, my knee problems got so bad that I couldn't stand, squat or sleep without feeling pain. My appetite was also badly affected," said the 54-year old supermarket cashier.
It was only in January this year that Mdm Manisah left her knee troubles behind her. The mother of two underwent a new surgical procedure to replace her left knee with an artificial one at Singapore General Hospital (SGH). Introduced in December last year, this technique – known as Total Knee Replacement (Patient Specific Instruments) – uses computer technology to help the surgeon position the artificial knee before the surgery for a near-perfect fit during the actual operation.
"Every patient is different because of age, gender, ethnicity and lifestyle, and this technique allows for these variables to be considered ahead of surgery," said Dr Chin Pak Lin, Consultant, Adult Reconstruction Service at SGH's Department of Orthopaedic Surgery, who carried out the half-hour procedure.
Dr Chin likens the technique to a car having its wheels balanced with better accuracy. Just as the computer's ability to calculate precisely a vehicle's weight and other variables helps the car mechanic give a more accurate balance, computer technology makes this total knee replacement surgery highly precise and safe.
The procedure involves having an MRI scan of the affected knee first. A 3D image of the knee is then generated and used in a computer programme that allows "virtual surgery" to be performed.
"Virtual surgery" enhances accuracy
During the "virtual surgery", the surgeon plans the cuts to be made, after which he forwards this information to a company in the US to manufacture a cutting mould. The mould, which is unique to the patient, takes about a month to make and is used as an accurate guide during actual surgery. "Virtual surgery" enhances accuracy "This new technique allows us to perform surgery in a virtual environment first, before finalising the cuts. The 3D diagram can predict the mechanical axis of the limb and the rotation of the implants with high accuracy," said Dr Chin.
In the conventional technique, alignment rods used in the bone can lead to errors. Moreover, introducing the alignment rods into the bone canal – the central cavity of the bone shaft that holds bone marrow – can also cause fat embolism, a condition where fat tissues enter the bloodstream and affect the respiratory system, something the new system does away with.
The new technique requires a shorter surgery, which means less time under anaesthesia compared to the conventional approach. Preparation time for the computer assisted robotic knee surgery is also reduced as very few instruments are required and implant sizing has already been determined.
"Joint replacement surgery can be approached through a smaller incision, as bone exposure (a smaller area of the bone is required to be exposed for surgery) is less crucial with the customised guide. Surprises such as having an unusually small or large knee without having a full inventory of the implants are also eliminated," said Dr Chin.
Basis for comparison
Mdm Manisah has now had both knees replaced. The first total knee replacement – her right knee – was also done by Dr Chin in April 2009 using standard surgery.
"I went for physiotherapy after both surgeries, but the main difference was the recovery period. After the second total knee replacement, I was able to move about much earlier and the bleeding stopped sooner as well. I didn't have to rely much on painkillers after this surgery, compared to the one I had in 2009," she said.
"I have not felt this way since I was in my 30s. It's such a joy to be able to move around freely again and without pain. It's given me a new lease of life. Even if it lasts for just another 15 years or so, at least I can enjoy my life during that time," said Mdm Manisah.
She was the second of 10 patients to have undergone the new surgical technique for total knee replacement at Singapore General Hospital. Other patients have reported a quick recovery and all are walking naturally, said Dr Chin.
Article from Singapore Health Issue 10 (May-Jun 2011)