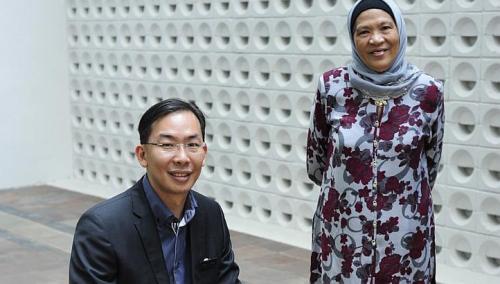 February 25, 2014
Even the best surgeons sometimes miss the mark when fitting knee implants, but a new robot will minimise such human errors.
Patients at the Singapore General Hospital (SGH), which handles the most knee replacement operations here, can look forward to longer-lasting implants with the Robodoc surgical system.
The robot, donated by the South Korean government, cuts bone to an accuracy of 0.02mm – finer than a strand of hair.
Orthopaedic surgeon Chin Pak Lin said such precision is unmatched by other techniques, no matter how good the doctor is.
Generally, in total knee replacement surgery – which the robot is programmed for – the maximum error allowed is a mere 3 degrees.
Experienced surgeons performing this 90-minute surgery get this wrong in two out of 10 cases, as the conventional method requires the cutting and sawing to be done by hand, said Dr Chin.
"An implant is only good if you put it where it's supposed to be," he said.
When fitted well, a knee implant can last 15 to 20 years. If not, pressure is unevenly distributed on the joint, causing the implant to wear out faster.
As a result, problems can surface as soon as within two years – an outcome that is deemed "catastrophic", said Dr Chin, adding that the patient will likely need more surgery, and each subsequent operation may have a higher risk of complications.
Total knee replacement is ideal for people aged 60 to 80. Such a procedure is called for in conditions such as osteoarthritis, where joints degenerate and cause pain.
In Singapore, 1,683 knee replacements were carried out in the first eight months of this year, according to data from the Health Ministry. A decade ago, there were fewer than 700 cases a year.
SGH handles the bulk of cases, with some 1,500 operations performed annually.
It has used the new robotic system since May on 20 people. For now, there is minimal time saving but the hospital expects this to improve once the surgeons become more proficient with the machine.
The first to be operated on using this new system was Madam Rokiah Amat, 62, who had an artificial knee joint fitted in May.
She said the recovery seems faster compared to conventional knee surgery, which she had eight years ago on her other knee.
"In two months, I could walk normally and even went to Johor Baru," said the retiree.
Madam Rokiah, who paid $4,000 for the procedure as a subsidised patient, now walks her three grandchildren to school without pain, or having to take painkillers. "Now I can move freely," she said.
Article from The Straits Times (Oct 3, 2012)